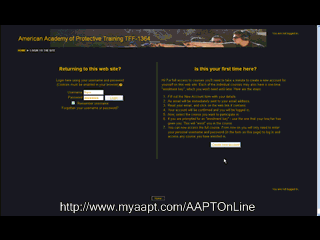 Try our online campus it's now easier than ever before to obtain all of your required training, more economical than other security training schools and more convenient to get the certifications you need! You may complete one course at a time or all of the courses at once! We are a California licensed security training facility through BSIS, so you can rest assured to get the recognition for job advancement, promotion, retention, and professional growth. Whether you are a California security professional, out of state, or international security agent, you will find the right certifications here at AAPT!
Courses Now Available Online!
Welcome!
Hello and welcome to the American Academy of Protective Training we are here to help you in all of your security training needs.
Here at AAPT, we believe that during a deadly force confrontation, you will defend yourself the way you have been trained to respond.
Our firearms training programs focus on developing combat mind-set, defensive aptitude and a reflexive conditioned response when the use of deadly force in self defense is imminent. To accomplish our mission, AAPT, has assembled a cadre of professional firearms instructors, tactical trainers and training consultants that are dedicated to providing some of the highest quality firearms training available today.
You will find that our training staff has achieved national recognition as expert trainers in every facet of firearms training, defensive tactics, officer survival and tactical strategies.
Our firearms training courses provide students with a challenging learning environment and will enhance the survival skills that are necessary to deal with real world situations.
AAPT

 

Security Training
Our security training programs allow you to choose from one day training courses to multi-day training sessions. It is our goal to provide practical and realistic training. We are dedicated to providing you with the best training at a low cost.
AAPT
Training Courses
AAPT offers a number of training courses and training programs for:
Get Help With Financing
Ask us about our Six Months Same as Cash financing. 
Financial assistance and other funding programs for our training may be available for  those who qualify.